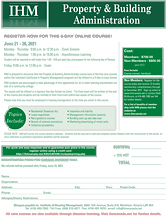 Monday - Thursday: 9:00 a.m. to 12:30 p.m. - Zoom Session
Monday - Thursday: 1:00 p.m. to 4:00 p.m. - Asynchronous Learning
Student will be required to self-study from 1:00 - 4:00 pm each day and prepare for the following day of Review.
Friday: 9:00 a.m. to 12:00 p.m. - Exam
IHM is pleased to announce that the Property & Building Administration course (one of the five core courses within the Institute's Certificate In Property Management program) will be offered in a 5-day in-class format.
IHM students are encouraged to take advantage of this opportunity for an in-class learning environment outside of a community college.
The course will be offered in a rigorous five-day format via Zoom. The final exam will be written at the end
of the course and students will be notified of their final mark within two weeks of the course.
Please note that you must be employed in housing management at the time you enroll in the course.
Topics Include:
Residential Tenancies Act
Lease negotiation
Rent geared to income
Breach of contract procedures
Collection procedures

Insurance and liability
Management information systems
Building start-up and take over
Marketing/advertising of rental units
PLEASE NOTE: IHM will courier the course manual in advance. Students will be required to read and complete certain chapters from the manual prior to the course, so strict adherence to published registration deadlines will be observed.
All core courses are also available through distance learning. Click here for details.
Course Fee
Members - $600.00 (plus HST)
Non-Members - $700.00 (plus HST)
Fees Include: Course manual, handouts
Non-Members:
Register for the course today and receive 12 months membership complimentary through to December 2021. Sign-up online at www.ihmcanada.net or contact Beth McKenzie, at 416-493-7382 ext 144 for further details.
For a list of benefits of membership with IHM please click here.
---
Registration Information
To register, you can either use our secure online server or simply download the printable Registration Form (PDF Format), fill it out completely and mail or fax your completed registration to the address/fax number indicated on the form.
No refunds will be provided after Friday, Sept 17, 2021.
---