July 20, 2022 - Industry News

IHM Property Management Program Approved for OSAP Eligibility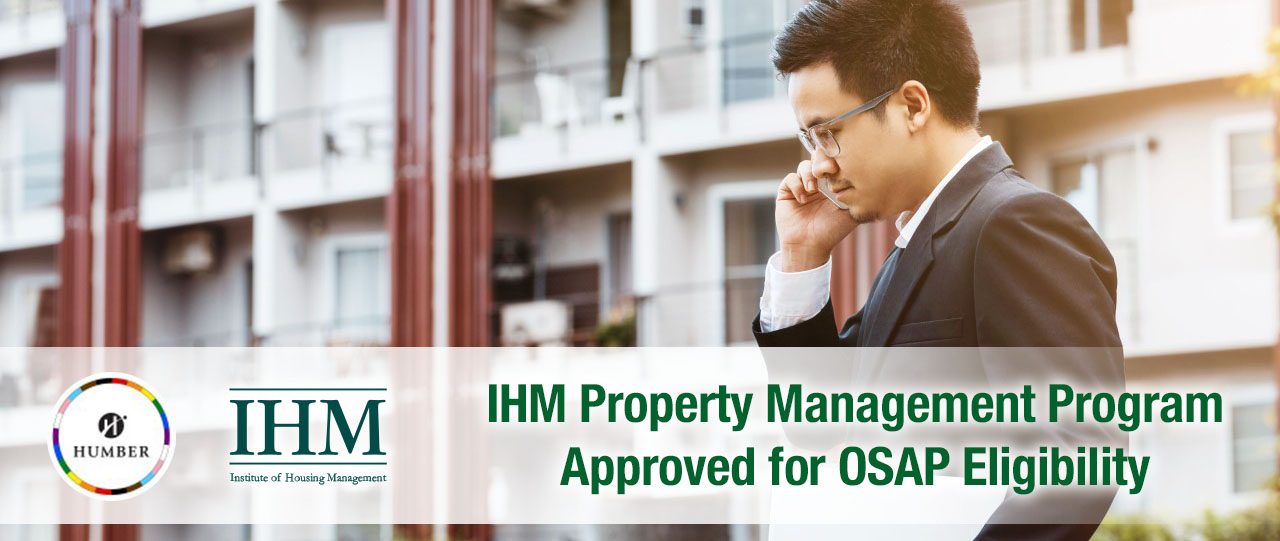 Published on July 20, 2022
Change in OSAP eligibility allows more learners to access IHM and Humber College's Property Management program.
Humber College offers education and training for those aspiring to manage and operate publicly and privately-owned residential and institutional buildings through its Property Management program.
This specialized program is now eligible for Ontario Student Assistance Program (OSAP) funding.
This change in OSAP eligibility makes this career path more accessible as OSAP funding can help with the cost of tuition, equipment, living expenses and even childcare if needed.
"Humber has a long-time focus on supporting our students to success and, through this initiative, the province is providing more financial support to non-traditional students looking to rapidly upskill and reskill for the in-demand jobs of today and tomorrow," said Wanda Buote, dean of Education and Training Solutions, Humber College.
The program is accredited by the Institute of Housing Management (IHM), an organization that provides property management education and a professional accreditation program.
Deborah Filice, education director with IHM and an instructor at Humber, feels the change in OSAP eligibility has opened a new avenue of support for those who want to become property managers.
She's seeing a variety of individuals enrolling in the program – from recent high school graduates to those already working as property managers for years who want to upgrade their skills. Real estate investors interested in knowing best practices for managing their properties are another group finding value in the program, she said.
"By taking the courses, learners are attaining the skills needed to be well-educated property management professionals."
Humber student Danica Cvetkov is working towards her Property Management certificate and feels the program now being eligible for OSAP would be a benefit for prospective students.
"Nowadays, many people want to change their career path and often do not because of the financial cost," said Cvetkov. "This now gives an opportunity and opens the doors to possibilities."
Humber's program includes five stackable micro-credentials and one elective. Once complete, learners will receive their Property Management certificate.
Each of the core courses is taught by instructors who have managed or worked in the housing sector for decades and they bring firsthand knowledge to the classroom. Filice, for example, started in the industry in the 1980s before retiring in 2019 as the CEO of Haldimand Norfolk Housing.
The courses are 10 weeks in length, are available each semester and are taught in a blend of synchronous and asynchronous online learning platforms.
Students will learn about current industry legislation, insurance requirements, asset management, preventive maintenance, human relations, tenancy law and strategic and financial planning, among many other important aspects of the job.
"By taking the courses, learners are attaining the skills needed to be well-educated property management professionals," said Filice.
Filice sees property management as a growth sector and said there's an increasing need for accredited property managers. The certificate qualifies graduates to become a candidate of IHM and is the first step toward achieving the Accredited Member of the Institute of Housing Management designation.
Filice added that many employers are seeking college-trained individuals to work as property managers and stressed the value of the skills that will be learned as part of Humber's program.
Those interested in learning more can visit the Property Management program website.


https://www.linkedin.com/pulse/change-osap-eligibility-allows-more-learners-access-humber-