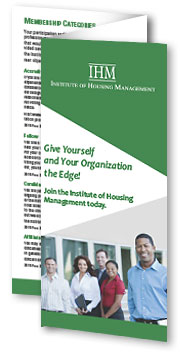 Membership Categories
Your participation and interest in the property management profession may well be different from someone elses'. In fact, that would be normal. The IHM recognizes this, and we have provided several different ways for you to become a member of the Institute; it all depends on your current situation and career objectives.
---
Accredited Member
If you are a practicing property manager with five years progressive experience in the industry, and meet our educational qualifications, consider becoming an Accredited Member. You will be entitled to use our designation, AIHM, and will demonstrate to your peers your professionalism and concern for the industry. As an AIHM, you will be a full voting member of the Institute, entitled to take part in its governance.
Visit the Accreditation Process page for details.
1 Year - $225.00 + HST / 2 Years - $430.00 + HST
---
Fellow
You are a well-established, successful property manager, and have held your accreditation through the Institute for at least five years. For your contributions to the profession and the Institute, the IHM Board of Directors may recognize you by appointing you a Fellow, entitling you to use the designation FIHM. If you are granted this honour, you have achieved the highest recognition the Institute offers.
1 Year - $260.00 + HST / 2 Years - $500.00 + HST
---
Candidate Member
You are just starting out in the profession, and are committed to your ongoing professional development. Becoming a Candidate Member of the Institute is an excellent way of showing the world you are serious about your future and the industry. Candidacy also entitles you to the other benefits of membership. You will not be able to vote, but we do encourage Candidate Members to participate in all that the Institute has to offer.
1 Year - $175.00 + HST / 2 Years - $330.00 + HST
---
Affiliate
You may or may not be active in property management, but you are concerned about issues affecting property managers and the Institute in general. By becoming an Affiliate of the IHM, you indicate that concern and take positive steps towards addressing it.
1 Year - $190.00 + HST / 2 Years - $360.00 + HST
---
Corporate Member
As a supplier to property managers, you want to support your customers. Becoming a Corporate Member of IHM is an excellent way for you to show your support. By joining, you are saying that you care about professionalism in the industry, and want to help advance property management in that direction. As a Corporate Member, you are able to participate in discussions within the Institute, participate as a sponsor and exhibitor at discounted rates, submit articles for publication in the newsletter and bring a supplier point of view to industry discussions.
1 Year - $375.00 + HST / 2 Years - $710.00 + HST
---
Retired Member
The Institute also offers members who have retired a discount. As a Retired Member, you no longer use the Institute's designations which you may hold, and don't vote at meetings, but you can still remain involved, attend IHM functions, receive the newsletter, and all other benefits not specifically reserved for Accredited Members and Fellows.
1 Year - $80.00 + HST / 2 Years - $150.00 + HST
---
Honourary Candidate AIHM (C)
The Candidate membership category is available to any Candidate member who has successfully completed the Certificate in Property Management Educational program through IHM, but who does not yet have the required work experience to apply for full Accreditation. This membership level offers use of the AIHM (C) designation.
1 Year - $195.00 + HST / 2 Years - $370.00 + HST
---
Retired (AIHM/FIHM)
If you are a retired AIHM or FIHM member and would like to continue demonstrating to your peers your professionalism and concern for the industry, and still be a full voting member of the Institute, then FIHM(R) or AIHM(R) designation would give you the same benefits as before you retired.
If you have additional questions, please contact IHM office for details.
1 Year - $85.00 + HST / 2 Years - $165.00 + HST
---
Honourary Member
Finally, for individuals who have made outstanding contributions to housing management practices, the Board may, by unanimous consent, elect them as Honourary Members. This is a distinction reserved for a very small group.